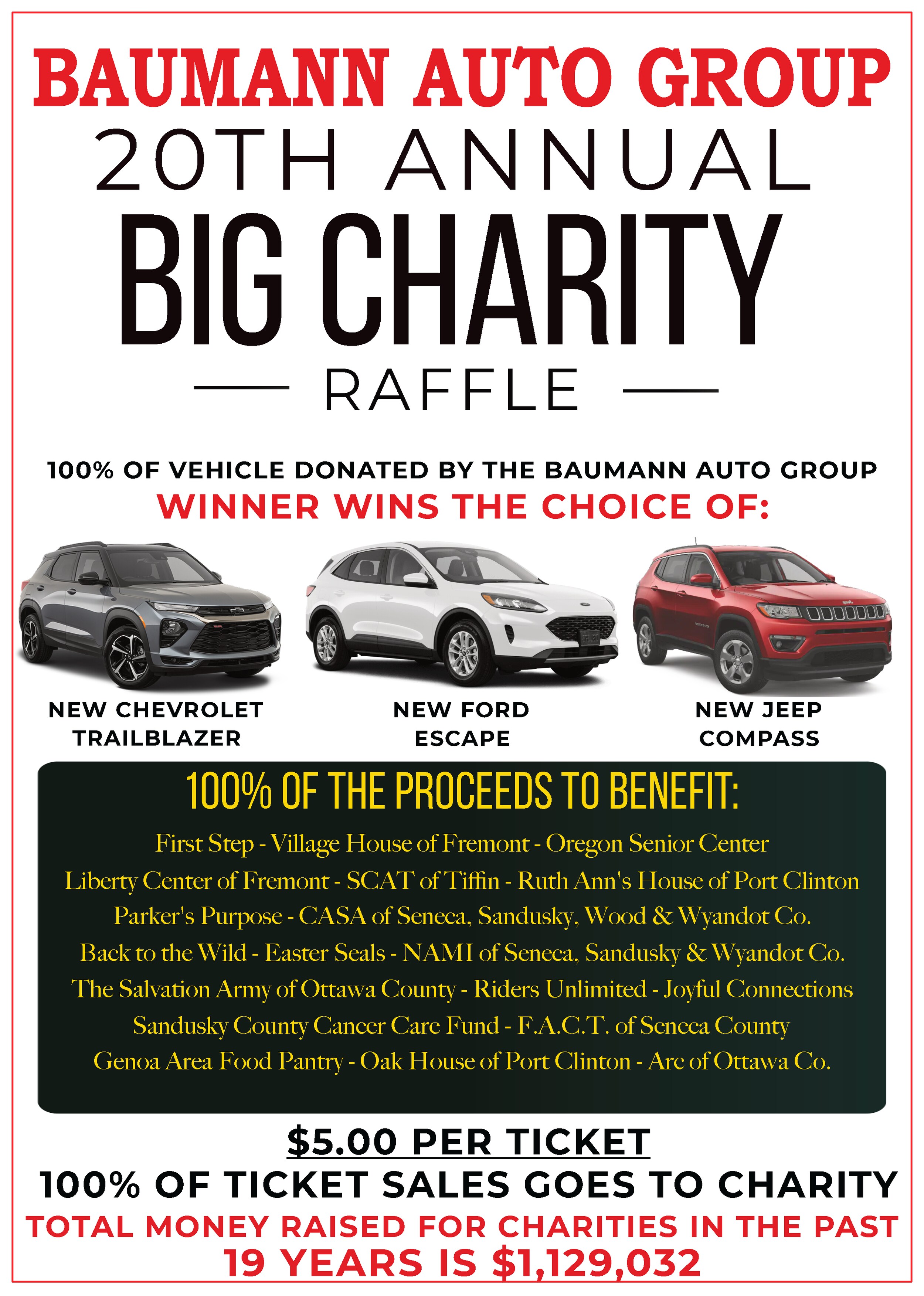 We're KICKING OFF our 20th Annual BAUMANN AUTO GROUP BIG CHARITY RAFFLE!! Help Support 19 Local Charities!  We have raised over 1 Million Dollars for local charities!!
Nineteen area charities will be the big winners from this special event. They include Liberty Center of Fremont, First Step of Seneca, Sandusky, Wyandot & Wood Counties, NAMI of Seneca, Sandusky & Wyandot Counties, Ruth Ann's House of Port Clinton, SCAT of Tiffin, Easter Seals of Northern Ohio, CASA of Sandusky, Seneca & Wyandot Counties, Riders Unlimited, Back to the Wild, The Salvation Army of Ottawa County, Sandusky County Cancer Care Fund, F.A.C.T. of Seneca County, Parker's Purpose, Genoa Area Food Bank, Arc of Ottawa Co., Oak House of Port Clinton, Oregon Senior Center, Joyful Connections and Village House of Fremont. The Baumann Auto Group dealerships and the twenty charities will be selling $5 raffle tickets for a chance to win a new vehicle.  100% OF EVERY TICKET SOLD WILL GO TO THE CHARITIES!  The Baumann Auto Group is donating a new vehicle for the Grand Prize.  The winner will have the choice of a New Ford Escape, New Chevrolet Trailblazer or a New Jeep Compass.  The winning ticket will be drawn November 12, 2022, 1:00pm at Baumann Auto Center in Port Clinton Ohio.
In the past 19 years The Bauman Auto Group Big Charity Raffle has raised $1,129,032 for the local charities.  To exceed the success of the previous years, our goal this year is $70,000. 
Stop by one of our 7 convenient locations or one of the 19 charities and purchase your winning ticket today.  You will be contributing to a great cause, and the winner could be YOU!